Miter joints are difficult to cut. When making angled cuts, you'll want to use the greatest equipment you can find. So, which saw is best for miter joint cutting? This guide will attempt to assist you in narrowing down your options and determining the best option for you.
Our Top 3 Picks
A miter saw is a specialized tool that pivots its blade on an arm to generate miter joints for angled projects. This enables it to make flawless cuts according to your exact demands.
It could be used to create something with sharp angles, such as a frame or crown molding. With that in mind, here's a handy guide to help you figure out what your alternatives are and what to look for.
Best 10 Designed Saw For Cutting Miter Joints
1. DEWALT DWS780 Compound Miter Saw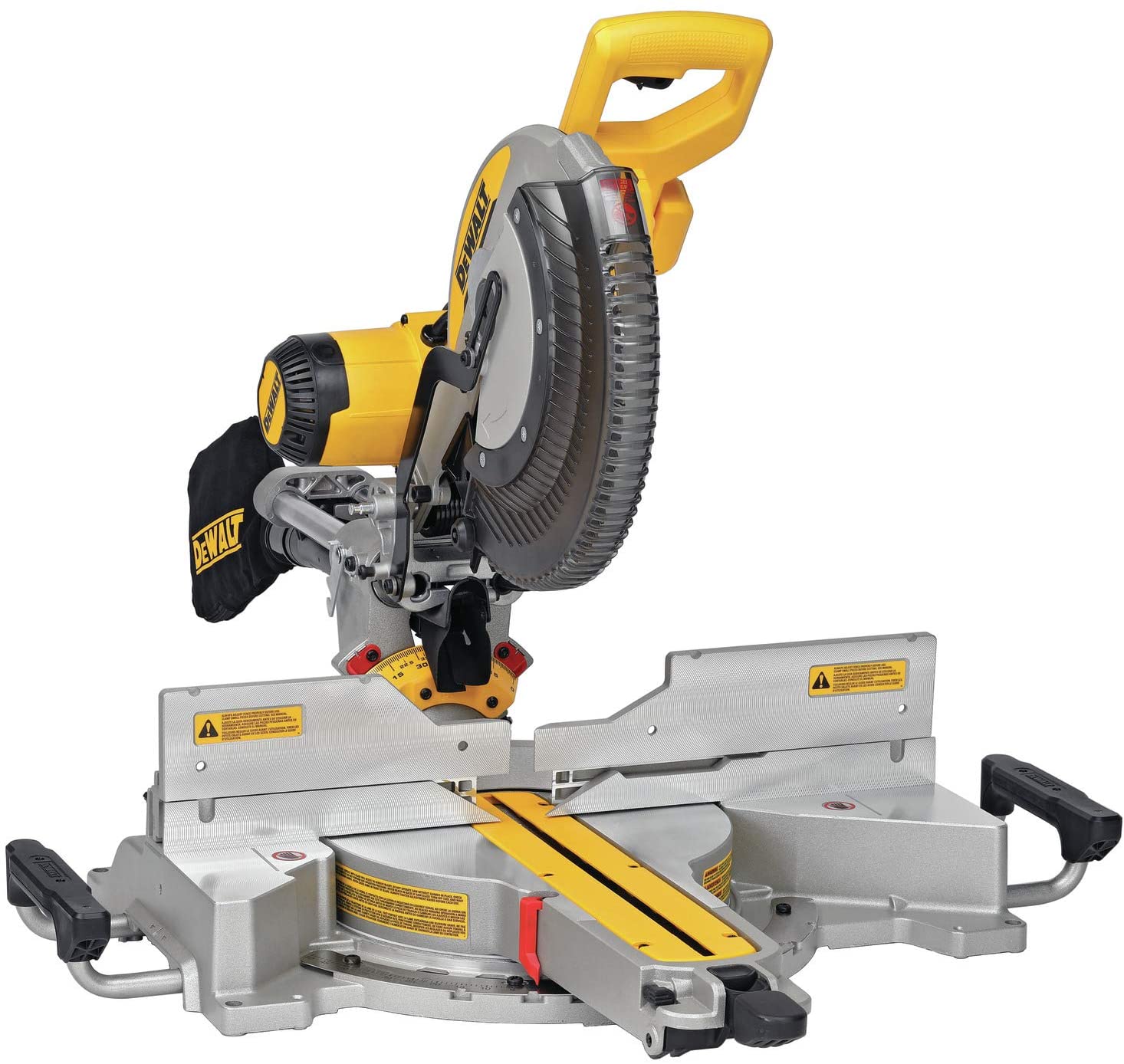 The Dewalt DWS780 combines a powerful 15-amp motor with a slew of features to make cutting chores go more smoothly and quickly. The 12-inch double bevel sliding design produces precise, clean cuts. Crown molding and base molding are both easily accommodated by the high-capacity cutting machine. The DWS780, like all Dewalt systems, is built to withstand the elements.
The accuracy and adaptability of the Dewalt DWS780 have left users extremely delighted. Many people praise its ability to handle a wide range of board widths with razor-sharp cuts. The Dewalt DWS780 is highly praised for its smooth and quiet performance, particularly by individuals who have previously used other miter saws. The XPS crosscut positioning system, for example, allows you to make precise cuts without having to adjust the saw repeatedly, allowing you to complete even the most difficult tasks with ease.
Key Features
For the 12-inch miter saw blade, the integrated CUTLINE Blade Positioning System delivers adjustment-free cut line indicators for improved accuracy and visibility.

When the saw arm is lowered, an LED projects light down either side of the blade, creating a shadow on the cutline.

The DEWALT miter saw's super-efficient dust collection mechanism captures over 75% of the dust created.

Crown molding up to 7-1/2-inch nested and base molding up to 6-3/4-inch vertically against the fence are supported by tall sliding fences, which simply slide out of the way for bevel cuts.

At 90 degrees, the exclusive back fence design cuts up to 2×14 dimensional lumber and 2×10 at 45 degrees.

A stainless-steel miter detent plate with ten positive stops increases efficiency and ensures cutting precision.
Benefits
For portability, there are side handles.

For easy adjustment, it has a cam lock miter handle.

There's a dust bag included, as well as an instruction manual.
Drawbacks
There is no laser or XPS light for precision.
2. Delta S26-262L Miter Saw with Laser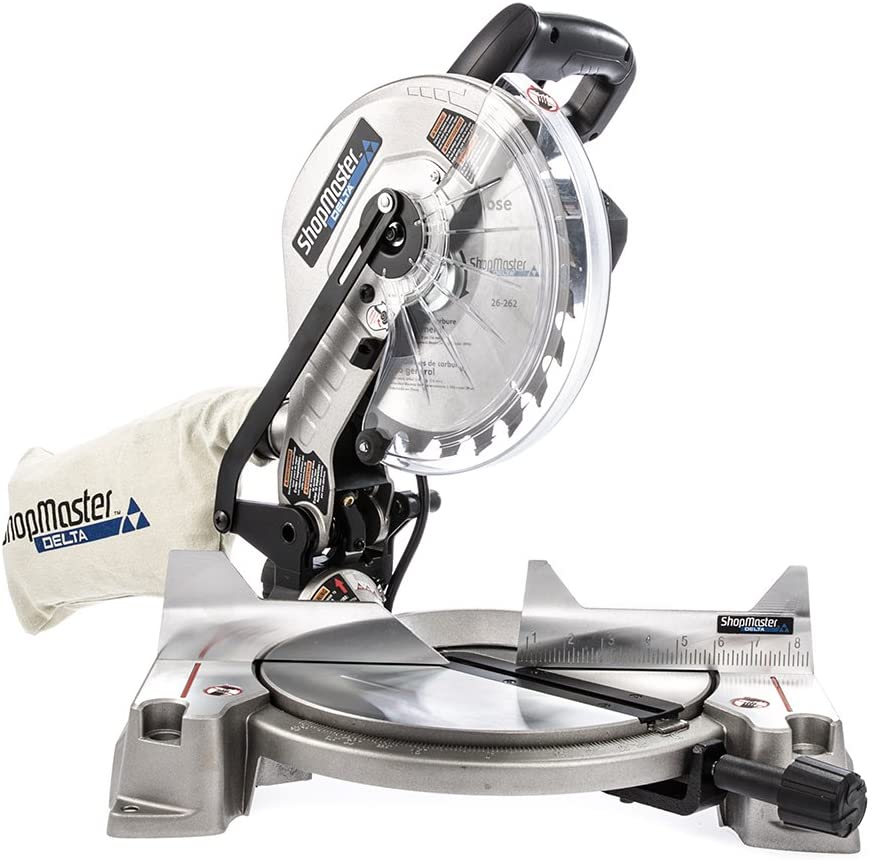 The Delta S26-260L is an excellent addition to any woodworker's toolkit. It provides excellent value in an economical and capable design, with a plethora of useful functions. Blade alignment is a breeze with features like the battery-operated laser, which speeds up even the most complex chores while maintaining accuracy. With a 15-amp motor that can cut quickly and cleanly in a single pass, it also has plenty of power. The Delta S26-260L is a highly adaptable unit that may be used with virtually any miter saw stand.
The Delta S26-260L includes a powerful 15 amp motor that can readily cut through wood with exceptional precision thanks to the battery-operated laser. Those looking for outstanding value in a miter saw have nothing but praise for it. Even consumers with extensive expertise with other miter saws have switched to this one because of its excellent value for money. When making cuts, several users indicate that the size of the blade should be considered. Many people have discovered that choosing the right blade is crucial to getting the most out of this machine.
Key Features
Lightweight equipment that can be moved from room to room or even from job to project. Compatible with almost all miter saw stands.

The spindle lock secures the spindle while the bade nut is loosened and removed.

Cuts nominal 4×4 and 2×6 at 90° and 2×6 in one pass.

Cuts Nominal 2×6 at full bevel, with bevels ranging from 0° to 47°.
Benefits
Easy blade alignment using a battery-operated laser

Lightweight and portable, it may be moved from one location to another. 

It is compatible with all miter saw stands.
Drawbacks
After some time, the laser's battery may need to be replaced.
3. RIDGID Dual Bevel Miter Saw
The RIDGID Dual Bevel Miter Saw is a versatile tool that can be used for cutting wood, metal, and other materials. It comes with a soft grip handle that provides a firm grip even when your hands are wet. It comes with a soft grip handle that provides a firm grip even when your hands are wet. T -shape handle for maximum comfort, easy to use and handle. Fits all standard sinks, dishwashers, and kitchen drains.
Key Features
There will be no noticeable restorative flaws when held at a safe distance.

Items with batteries will surpass 80% limit comparative with new.

Embellishments may not be unique, however will be viable and completely utilitarian. Items might come in conventional boxes.

This used item has been expertly investigated, tried and cleaned by Amazon-qualified providers.
Benefits
Cross-cuts

Dual bevel design

Ergonomic D handle
Drawbacks
4. Hitachi C10FCG Compound Miter Saw
The Hitachi C10FCG is a compact compound miter saw with a strong motor. Its 15-amp motor has a no-load speed of 5,000 RPM, making it more than adequate for most crosscut and miter cut jobs. The vice clamping system of the C10FCG is precisely intended to keep workpieces securely in place. This contributes to a safer and more efficient operation with a lower chance of injury. A horizontal handle adds to the security of the fittings, and a dust collection attachment decreases dust particles in the air.
The C10FCG is particularly well adapted to making clean, precise bevel cuts. It is a superb choice for woodworkers who want utmost consistency and precision, thanks to its zero to 45-degree bevel range. It even has thumb-activated positive stops for rapid miter adjustments. The Hitachi C10FCG appears to appeal to beginners, as many of them were able to swiftly gain experience with miter saws. The unit's modest and straightforward design is ideal as a starting point for more intricate operations.
Key Features
For more versatility, a 0-52 degree miter angle range to the right and left is available.

To deliver clean and accurate bevel cuts, the bevel range is 0-45 degrees to the left.

Positive brakes controlled by the thumb for rapid miter adjustments

To make maneuverability and transportation easier, the weight is reduced to 24.2 lbs.

To reduce airborne particle contamination, a dust collection attachment is offered.

For the toughest cutting work, a 15 amp motor provides plenty of power.

Large table with vice clamping method to secure workpiece for better material support

Ranges of miter saws – left 52, right 52
Benefits
Cleaner cut

More secure grip

Easy to set up
Drawbacks
There is no laser marker included for cutting precision.
5. Metabo C12FDHS Compound Miter Saw
The Metabo C12FDHS Compound Miter Saw is a versatile power tool for making precise cuts in a variety of materials. The miter saw can bevel 45 degrees to the left and 60 degrees to the right. As needed, the bevel clamp can be utilized to lock the angle in place. The saw incorporates a built-in dust bag for convenient and clean sawdust disposal. A multi-position fence is included with the saw to make precise cuts simpler.
Key Features
Engine: Powerful 15 amp engine with 1,950 W of result power flawlessly muscles through hardwoods easily

MITER SCALE RANGES: from 0-52 degrees, both to the right and left, for a more extensive scope of cuts

FENCE: Tall, turning aluminum fence that stands at a tallness of 5-1/8 In. permits crown embellishment to be cut upward

Miniature BEVEL: After significant slope point is gotten, miniature slant change handle can be utilized to dial-in to an exact point

THUMB ACTUATED POSITIVE STOPS: Miter points can be immediately changed
Benefits
All around bundled

This saw comes previously mounted

Has a pleasant plan

Activity is simple with this saw

Easy to make sharp edge changes

Very accurate
Drawbacks
Inaccurate laser mark feature
6. DEWALT FLEXVOLT DHS790AT2 Compound Miter Saw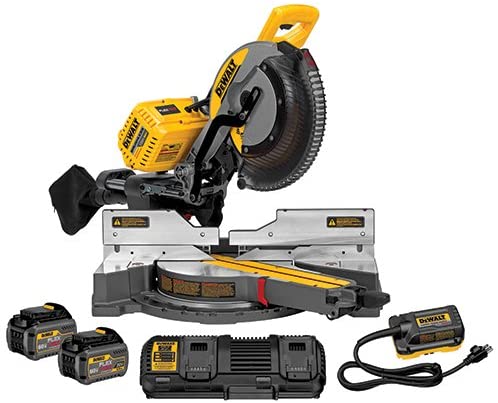 The FLEXVOLT Double Bevel Compound Sliding Miter Saw comes with corded or cordless power options, as well as brushless motor technology for portability. With the CUTLINE blade positioning system, accuracy is provided by an adjustable miter scale with 11 positive stops and a high visibility bevel scale. Two FLEXVOLT 20V/60V MAX Lithium Ion batteries, a dual port quick charger, and a corded power supply are included in the kit.
Key Features
The power of corded is flexible. The freedom of cordless technology. When you switch tools, the world's first battery automatically changes voltage.

Up to 289 Cross Cuts in 3-1/4″ Baseboard Molding; Runtime

When compared to brushed motors, the 120V Brushless motor has a longer runtime.

CUTLINE blade positioning system; cutline indication with no adjustment

Portability – The compact design only weighs 56 pounds.
Benefits
Freedom of cordless

Incredibly flexible

Versatile

Powerful with a compound bevel

Adjustment free cutline indicator

Compact desig

n
Drawbacks
7. DEWALT D28715 Miter Saw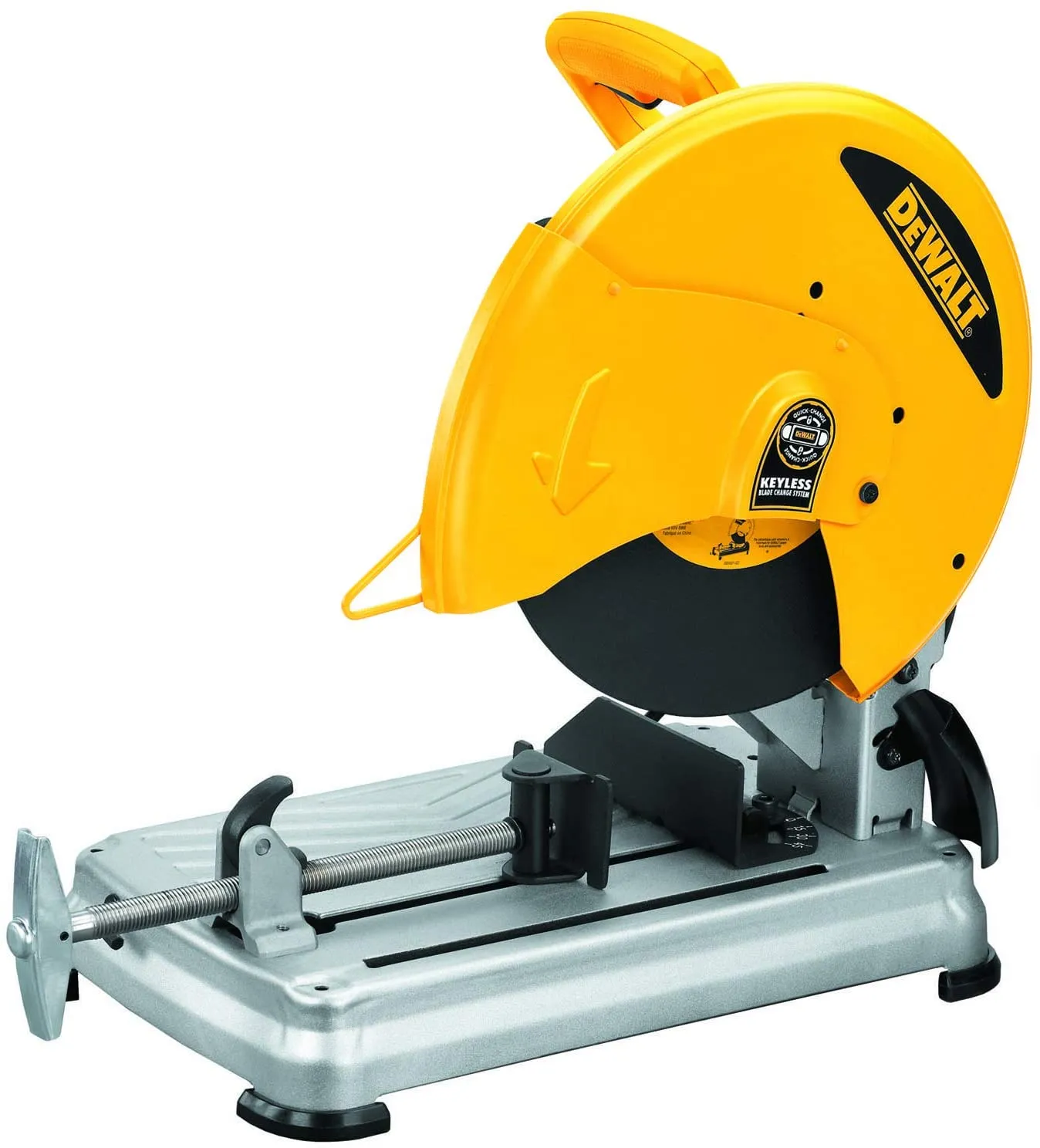 Anyone who wants to perform some DIY projects would appreciate the DEWALT D28715 Miter Saw. Any project can be completed quickly with the saw, and it is far safer than using a hand saw. It's a fantastic tool, but it's best utilized by someone who has some power tool knowledge.
Key Features
Strong 15 amp/5.5 HP (greatest engine HP) engine of the slash saw gives more over-burden limit, expanding execution and solidness

Ergonomically planned – inchD-inch handle gives a more agreeable hand position, diminishing exhaustion and expanding efficiency

Extra wide strong steel base gives expanded steadiness when cutting longer material. The four pre-penetrated openings in the base permit simple bolt down to any work seat. The strong steel base additionally permits clients to weld dances or stops straightforwardly to the base.

Substantial, lock-down pin permits top of the saw to be secured in the conveying position without the utilization of a chain

Rock solid pressure spring gives smooth development and more noteworthy strength than twist springs

Axle lock permits client to make wheel changes rapidly and effectively, setting aside time and cash

Strong 15.0 Amp/5.5 hp (greatest engine hp) engine gives more over-burden limit

Fast Change cutting edge change framework allows clients to change wheels without a wrench

Licensed Quick-Fence device free, 45 degree customizable fence takes into account quick and precise point cuts

Speedy Lock tight clamp considers quick cinching on various size materials

Delicate beginning expands stuff and engine life, ergonomically planned handle
Benefits
Can be used daily

Used in cutting metal

Has a sturdy and steady base

Finding a working base is easy with this tool
Drawbacks
8. Makita XSL06Z Miter Saw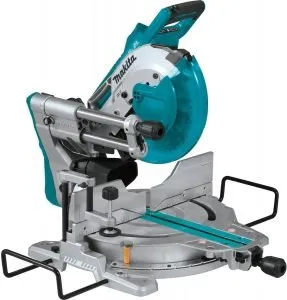 The Makita XSL06Z Miter Saw is a powerful and compact saw that's ideal for usage around the house. The saw is built of long-lasting magnesium and aluminum and features a small, user-friendly design. It boasts a powerful 6 12 amp motor and weighs only 11.2 pounds. It has a 6 3/4-inch base plate with a capacity of 16 inches and a turning radius of 3212. It has a hole of 212 inches and a spindle speed of 2,000 revolutions per minute. It has two 1/2-inch collets. It has three different speeds. It is covered by a two-year warranty.
Key Features
Controlled by two LXT batteries; x2 LXT innovation conveys more power, speed and run time without the issues of a string

Makita fabricated electronically controlled BL engine conveys 4, 400 RPM for quicker and smoother cutting.

The BL Brushless engine wipes out carbon brushes, empowering the BL engine to run cooler and all the more proficiently for longer life

Programmed speed change innovation changes cutting rate and force during cut for ideal execution

x2 LXT innovation conveys up to 334 cuts for every charge in 2×4 spf and up to 192 cuts for each charge in 2×12 spf stumble utilizing two 5.0Ah batteries
Benefits
Very versatile

Fits the hand

Great for small site jobs
Drawbacks
Under power tool

Not for professionals
9. DEWALT DCS361B Miter Saw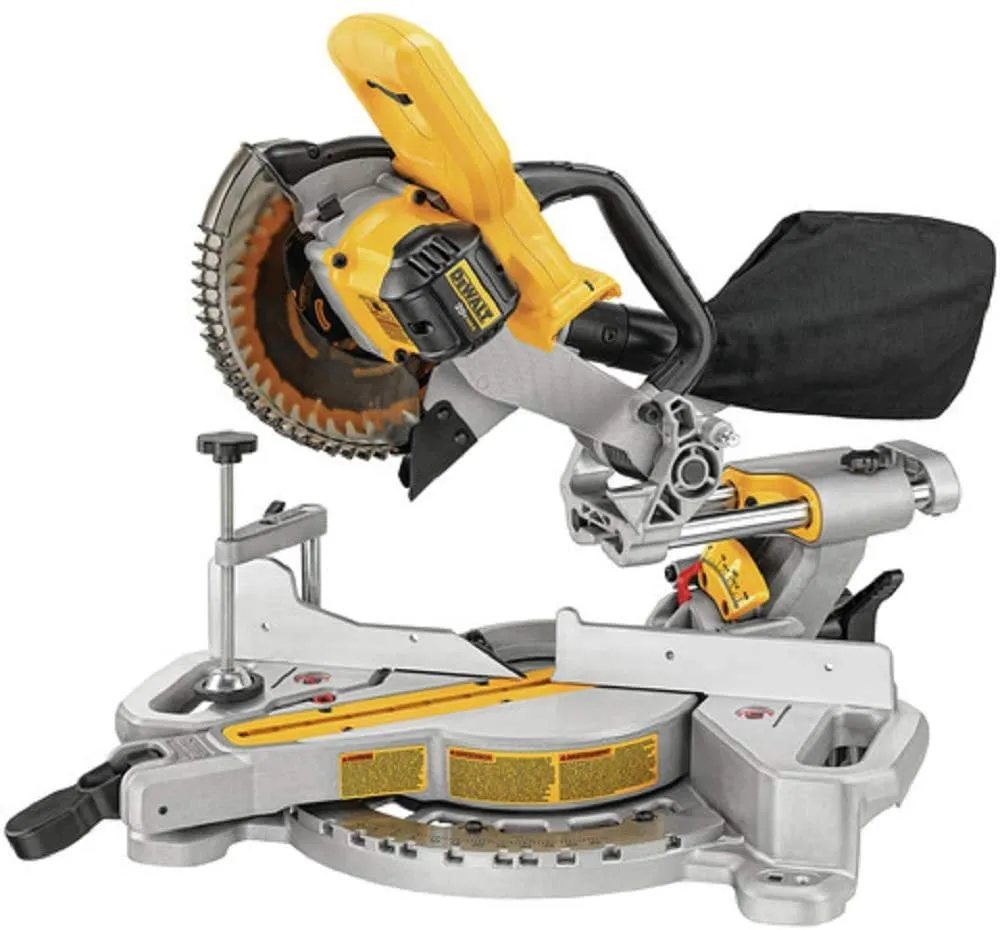 Any DIYer will appreciate the DEWALT DCS361B Miter Saw. It includes a 15 amp motor that can cut through even the most difficult materials. At 45 degrees, it can cut up to a 16-inch circle. It has a detachable stand as well as a built-in dust blower to help with sawdust and debris removal. It also has a rear handle that can be adjusted for more control over the saw's operation. A dust cover keeps the saw safe, and it runs on a single 20V battery.
Key Features
Larger than usual incline scale makes slant point changes exact and simple

Smaller, lightweight plan (30 lbs.) considers simple vehicle and capacity

Cam lock miter handle conveys fast and precise miter points

Incorporated set line cross-set situating framework gives change free cut line sign for better exactness and perceivability

Ability to cup 3 5/8 in. settled crown and 3 1/2 in. base upward

Customizable tempered steel miter detent plate with 11 positive stops further develops efficiency and guarantees cutting precision
Benefits
Lightweight

Compact and portable

Precise & quick adjustment

XPS crosscut positioning system
Drawbacks
Battery & Charger Sold Separately
10. Festool 575302 Compound Miter Saw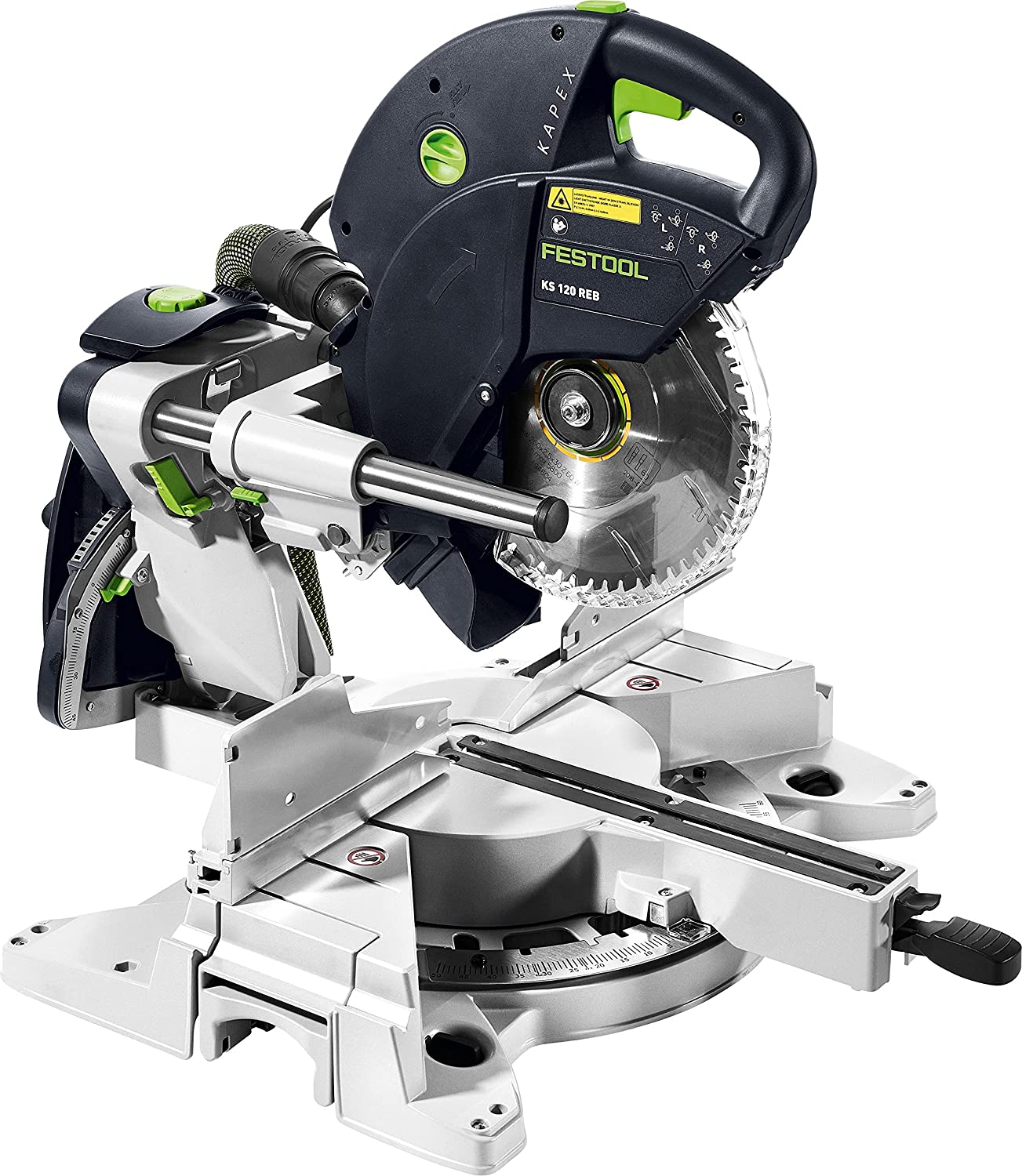 This new Kapex, like all Festool power tools, was created from the bottom up in Germany with no compromises and is ideal for people ready to pay for quality. Thanks to a unique design that pushes the movable rails farther front, the cut quality is unparalleled in a miter saw that is lighter than the competition and has a smaller footprint.
Key Features
An ergonomic handle and trigger are two of Kapex's standout features.

a cutting position designed to accommodate extremely tall workpieces

When tipped sideways, a counter-balanced blade assembly maintains its position.

It has a direct-drive motor that changes its output as needed and can lock the blade height for slot cuts that don't travel through the entire board.

Its one-of-a-kind hood is incredibly good at capturing dust.
Benefits
Unparalleled cut smoothness and precision Innovative features

Dust-collection efficiency that is unrivaled

Exceptional blade
Drawbacks
Crosscut capacity maximum
Conclusion
As you can see, each saw is distinct and has its own set of features, advantages, and disadvantages. What works for one individual might not work for someone else. It's not about obtaining the best miter saw on the market; it's about getting the best miter saw that will work for you. Investing money in a new instrument can be difficult, especially when there are so many possibilities to choose from, each of which has its own set of advantages.
When you have all of the details and know exactly what to look for, determining what is the best saw for cutting miter joints according to your criteria will be much easier.
Frequently Asked Questions
1. What is a miter saw good for?
Power miter saws are used to cut angled cuts in molding, trim, rafters, and other general carpentry projects. Miter saws can also create straight crosscuts, and when used with the correct blade, their versatility makes them an essential tool for both professional carpenters and DIYers.
2. What can a miter saw cut?
A miter saw is a specialty tool that allows you to cut at various angles. To make angled cuts, the saw has a blade placed on a swing arm that pivots left or right. Crown molding, picture frames, door frames, window casings, and other items may all be cut swiftly using a miter saw.
3. What is another name for a miter saw?
A power miter saw, also known as a drop saw or chop saw, is a power instrument that is used to make a precise crosscut in a workpiece at a specific angle. The miter index, which permits the blade angle to be altered relative to the fence, is one of the miter saw's most distinguishing features.
4. What is the standard position of the saw blade on a miter saw?
This cutting tool has the appearance of a hand saw, making it excellent for trim work and projects requiring exact measurements. The blade of a miter saw revolves in a clockwise motion. Make sure the teeth of a new blade are pointed downward while installing it to ensure a smooth cut through the workpiece.
5. What is the difference between a chop saw and a miter saw?
Miter saws are designed and produced to make exact cuts at many various angles, whereas chop saws are durable and relatively basic equipment. Although a miter saw may cut non-ferrous metal with the right blade, it is most commonly used to cut wood by joiners, kitchen fitters, and cabinet builders.