A feeler gauge is a tool that is used to measure the thickness of gaps. People, on the other hand, utilize it to set and adjust the thickness of a gap.
Our Top 3 Picks
It's impossible to measure a small gap using a standard precision tool like a caliper, especially when it's in a difficult-to-reach location and the gap thickness is believed to be thousands of an inch. In this scenario, a feeler gauge is useful.
As previously stated, it can not only measure but also set and adjust. A feeler gauge can be used to check spark plug gaps, establish valve clearances, and regulate the space between the string and the guitar neck, among other things. As a result, feeler gauges are used in a variety of fields, including machinery, engineering, mechanics, and music. Engineers, designers, mechanics, musicians, and other professionals are among the users.
Several blades make into a single feeler gauge unit. The blade is a thin strip of steel or another hard metallic material. Each blade is made to a specific thickness and assembled in a specific order.
In the United States, most feeler gauges are graduated in inches and millimeters. The metric graduation (mm) is just a conversion of the inch graduations. They are carved on the blade's surface to denote the blade's thickness.
It's made of metal, usually steel or stainless steel, or any other stiff substance. This results in a powerful body. The thinnest will be bent for a short time. A feeler gauge is usually constructed of tempered steel nowadays. The term "tempered steel" refers to steel that has undergone a tempering procedure.
In this article, we've compiled a list of our Top 10 Feeler Gauges.
Best 10 Feeler Gauge
1. Spurtar 32 Blades Steel Feeler Gauge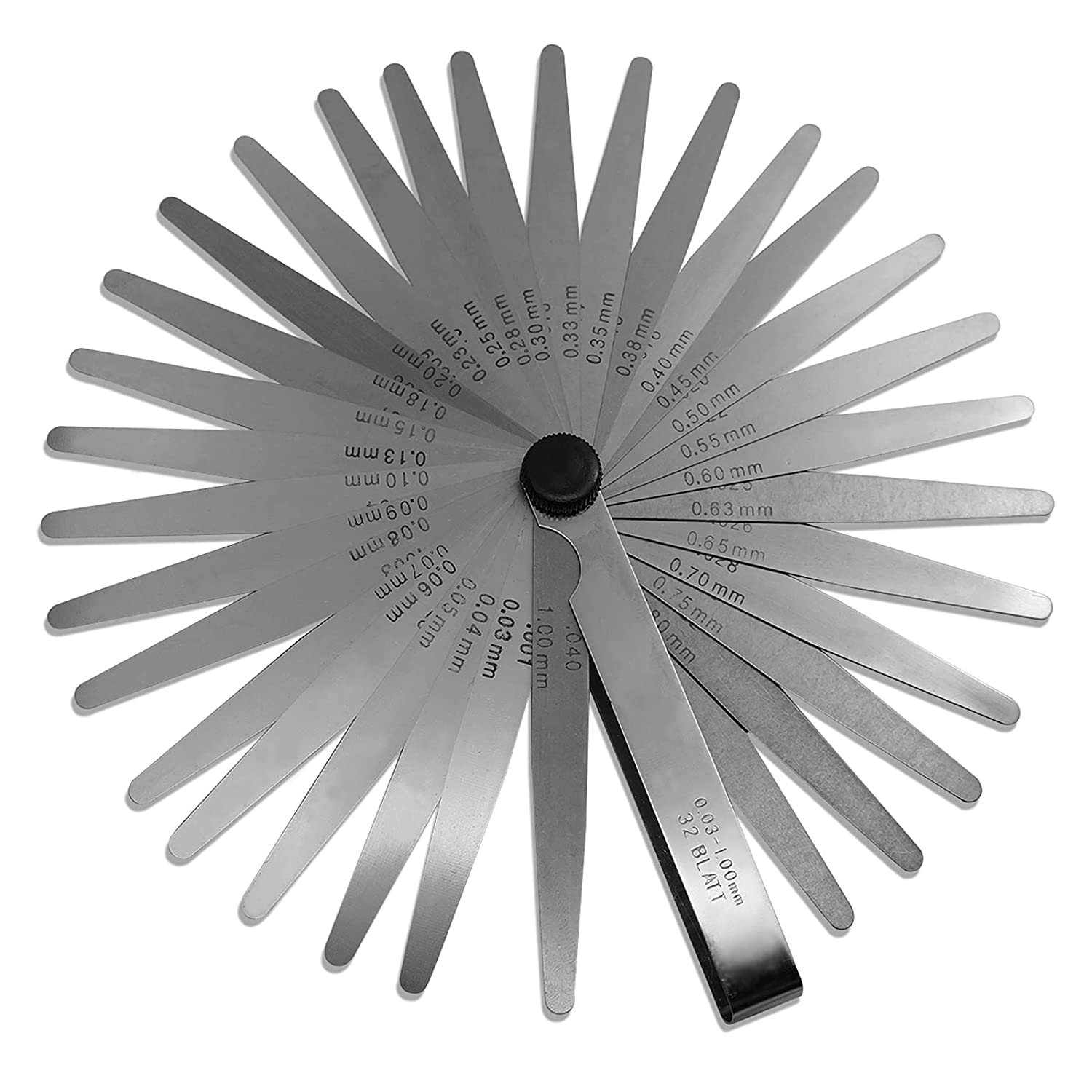 If the Mitutoyo's tapered feeler gauge is out of your price range, try this one instead. It even includes a fantastic pair of blades.
It's worth mentioning that this one comes with a 0.001-inch blade. As a result, this is extremely comprehensive. It not only offers a wide range of thicknesses, but it also offers the thinnest. Furthermore, it is a tapered model. There is still a chance to tap when the gap width is considered minimal. One of the blades is additionally 0.04′′ thick, a thickness that only Proto J000TL has. Another factor is the material. Manganese steel is known for not being magnetic. This feeler will perform best in any condition because it does not retract other ferromagnetic items.
Key Features
Dual labeled metric and imperial, 0.001inch to 0.04inch (0.03mm to 1mm), the size numbers are carved onto the feeler gauge for easy identification.

Friendly to the user- The feeler gauge's edge is steel and polished. It has a shiny metal texture that has been professionally treated, is smooth, and does not irritate your hand.

Feeler gauges fold into a plated steel case with a thumbscrew, making them easy to carry, take, and store.

The tapered feeler gauge set is composed of high-quality flexible 65 manganese steel that has been toughened and polished for long-term use and precision.

Vaseline has been applied to the Feeler Gauge. The feeler gauge will not rust and will be easy to open with this protection.
Pros
Accurate

Affordable

Complete blades
Cons
2. Proto J000TL 25 Blade Long Feeler Gauge Set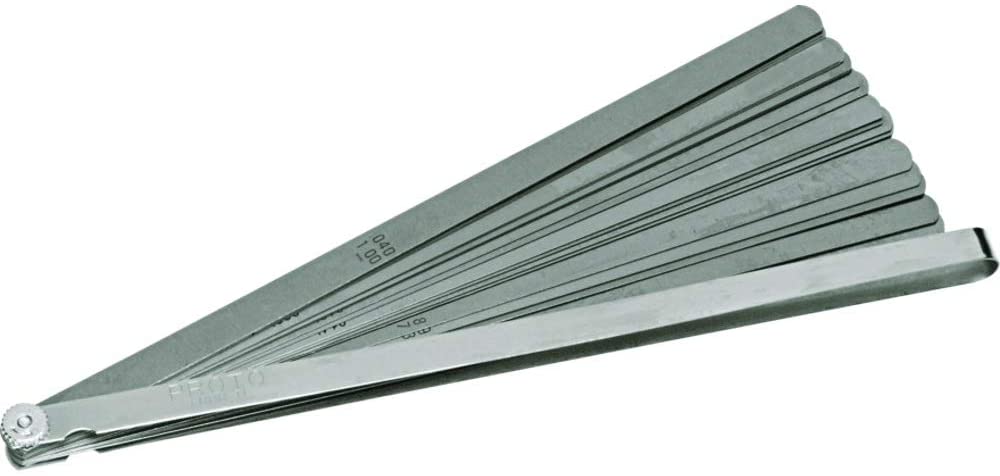 Applying a measurement to a difficult-to-reach object may be difficult. Don't be concerned! The CTA Tools a311 has extra long blades to help you deal with that kind of situation. They're 12 inches long, which is ideal for valve adjustment, flange gap measuring, and other similar tasks.
There are 25 blade sets available to meet your diverse measuring demands, ranging in thickness from 0.0015 to 0.040 inch. Both inch and millimeter measurements are inscribed on them. The 0.040 inch blade, which is the thickest of the rest, is the most noticeable. Such thickness is not found in any of the previous feeler gauges.
Key Features
Weight: 0.72-pounds

Made in the USA

Steel holder with 1/2-inch x 12-inch blades

Blades with both decimal and metric equivalents engraved on them

.0015-inch,.002-inch,.003-inch,.004-inch,.005-inch,.006-inch, and.040-inch sizes are available.
Pros
Blade that can be removed

Slot for the thumb

Order from SAE

Made in the United States of America pride

Long blades are used to measure objects that are out of reach.
Cons
3. Mitutoyo 950-252 Feeler Gage Set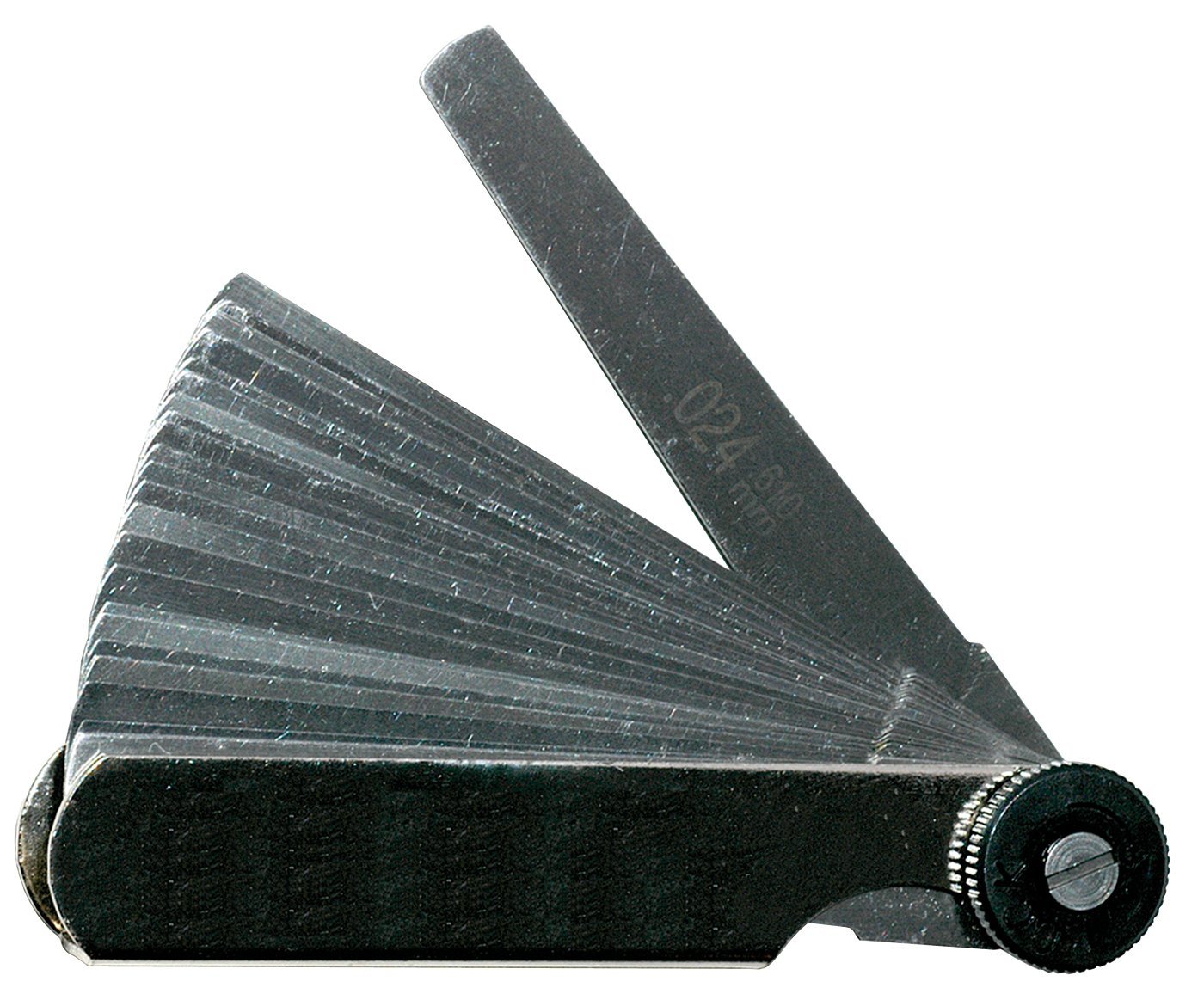 This is a nice 3′′ tapered feeler gauge that will come in helpful for various gap measurements. It's constructed with high-quality processing to provide precise thickness for accurate measurements.
If you're dealing with substantial gap measurements, this is the one to get. It's pricey, but it's totally worth it. Mitutoyo is a well-known brand of high-quality precision measurement tools. You can't go wrong with any of their items.
Key Features
Each leaf is identified by its size.

To enter into tight spaces, use tapered leaves.

Screw with knurled grip

Thumb slot in the protective outer casing

Set leaves are detachable.
Pros
Tapered-type

Screw in the lock

Blades that can be removed

Mitutoyo is a Japanese brand.

Thickness measurement accuracy
Cons
4. ABN 16-Piece Blade Feeler Gauge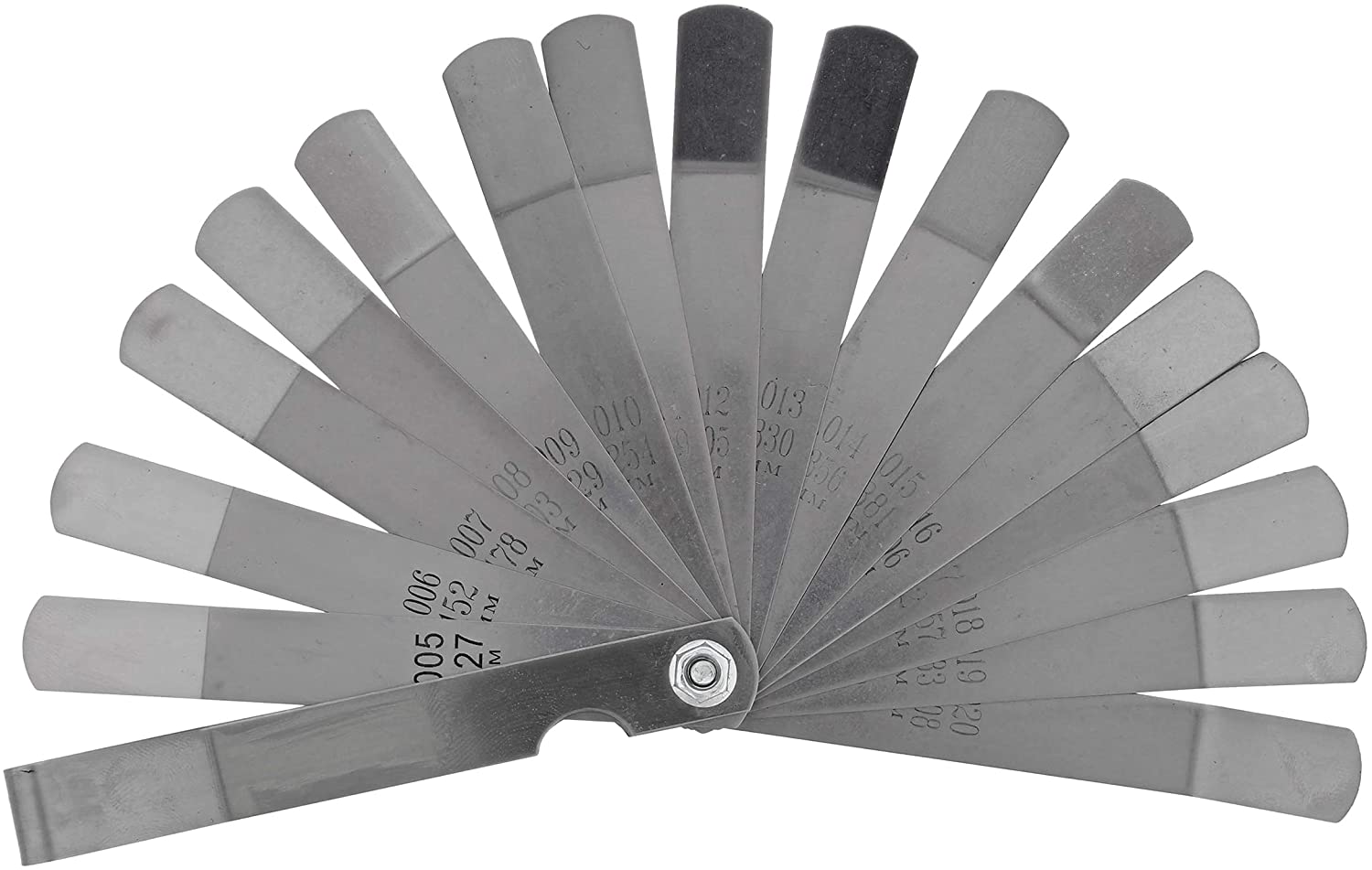 If you're on a tight budget and need an offset feeler gauge, ABN 0075 might be the gauge for you. The offset form makes it simpler to reach a difficult-to-reach space, making your job easier.
Key Features
MEASURE GAPS: When you need to measure gap widths quickly and conveniently, turn to the ABN Feeler Gauge.

MANY USES: Use on everything from guitars to engines and all in between; Standard sizes in metric and SAE are supplied (millimeters and inches)

CONSTRUCTED TO LAST: Made of hardened, tempered steel with a lubricating oil coating to prevent pitting and corrosion. For simple identification, each blade has its size laser engraved on it. Individual blades are bonded within a blade protector to prevent loss. A blade notch is included in the tool for easy blade removal.

METRIC: Sizes.508,.127,.152,.178,.203,.229,.254,.279,.305,.330,.356,.381,.406,.432,.457, and.483 mm are included.

STANDARD SAE: Inch sizes.020,.005,.006,.007,.008,.009,.010,.011,.012 are included.
Pros
Offset

Oily

Slot for the thumb

Warranty is for one year
Cons
5. OEMTOOLS 25025 26 Blade Master Feeler Gauge
OEMTOOLS 25025 is one of the top feeler gauges we recommend. OEMTOOLS 25025 is an excellent feeler blade for medium-level applications where they aren't used frequently. The blade count is fairly complete. Because the marks are engraved, they are readable. The graduation is in both inches and metric, though the metric value is the same as the inch graduation. Don't be concerned by the 0.0015′′ thickness blade. It will bend temporarily, unlike other thin blades that bend permanently.
Key Features
26 Blades of Hardened and Tempered Steel

Each blade has inches and millimeters laser etched on it.

Thumb Notch on Blade Protector Aids in Blade Removal

Main Shaft is Chrome Plated for Ease of Cleaning and a Professional Appearance
Pros
Graduation with laser etching

Affordable

Blade removal is facilitated via a thumb slot.

Blade protector with a chrome finish that looks amazing.

The order of blade thickness is in SAE order.

Oiled blades are included to help prevent rusting.
Cons
6. Precision 19740 Steel 20 Blades Feeler Gage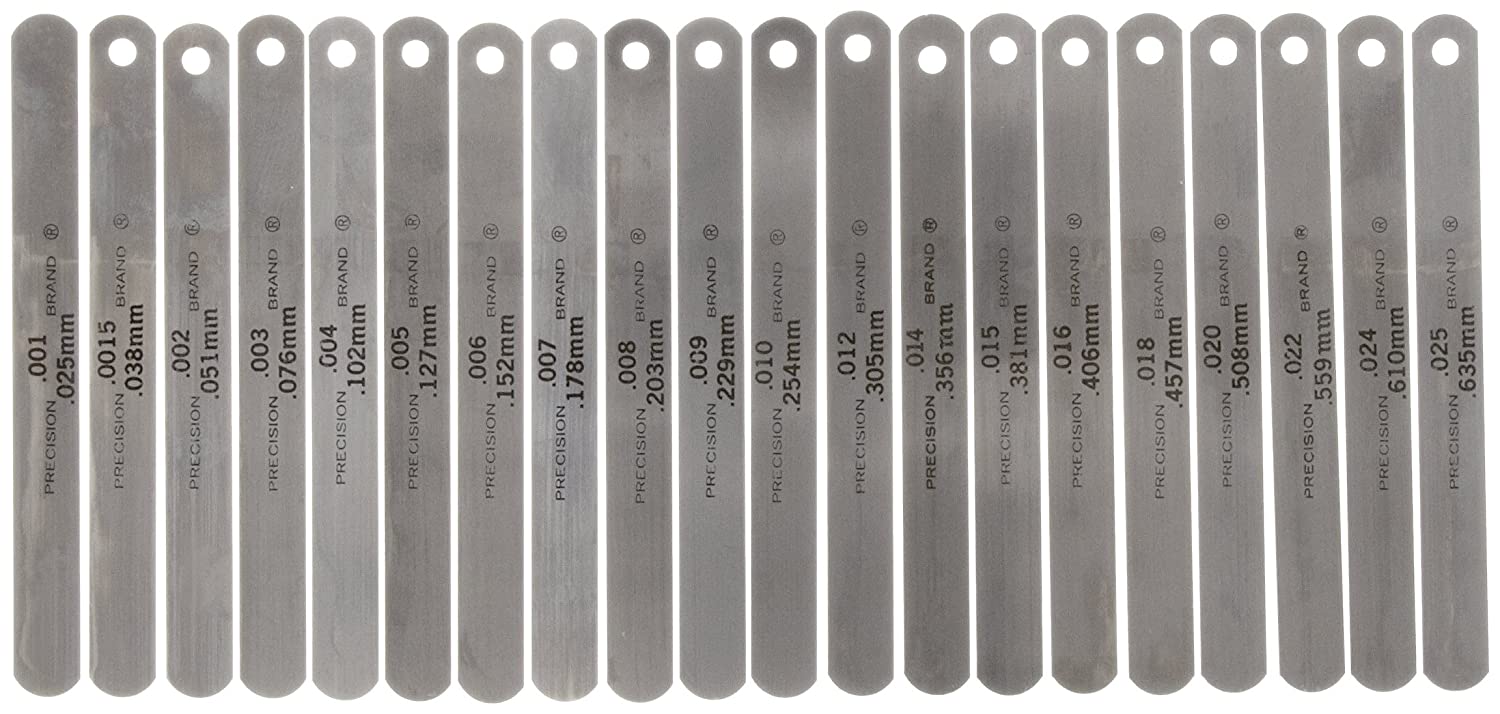 It comes in a wide range of thickness sizes, is accurate, is created in the United States, is built of high carbon spring steel, and includes 0.001′′ thickness.
The Precision Brand 19740 feeler gauge is different from the rest. It doesn't come with a handle, but it does come with a pocket kit. When you think you'll only need one blade, you can just pick one (with a certain size). The handle, on the other hand, can be purchased separately.
Another factor to consider is the thickness of the blade, which is 0.001 inch. This is a rare size, however it is available here.
This product comes in two different sets. The first has 20 blades that are 5 inches long, while the second has 20 blades that are 12 inches long.
Key Features
0.001″, 0.0015″, 0.002″, 0.003″, 0.004″, 0.005″, 0.006″, 0.007″, 0.008″, 0.009″, 0.010″, 0.012″, 0.014″, 0.015″, 0.016″, 0.018″, 0.020″, 0.022″, 0.024″, 0.025″

C1095 close grain, high carbon spring steel, 1/2″ broad

Individual blade pockets are included in a strong vinyl case that folds flat for easy storage.

Each blade has a metric and decimal thickness imprinted on it.

For safety, the ends are rounded and the edges are smooth.
Pros
Including the size of 0.001 inch

Easy to use

Thickness measurement accuracy

Made in the USA
Cons
Its grip eliminates the need to pick all of the blades together, making it ideal for everyday usage.
7. CTA Tools A308 Offset Valve Tappet Gauge Set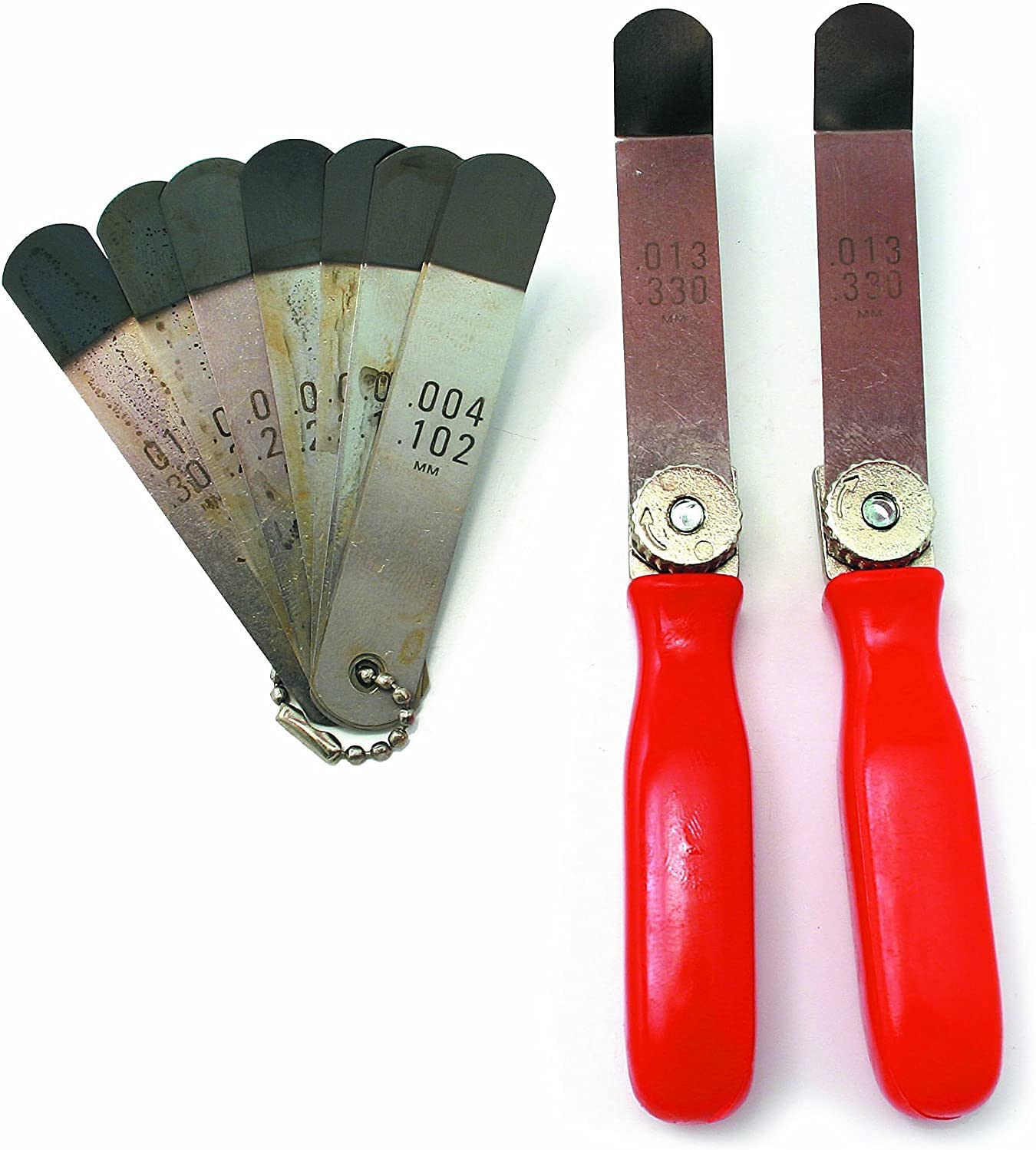 CTA Tools A308 is the stainless steel feeler gauge you've been looking for. There are numerous advantages to this, including the material, offset type for easy insertion, and two handles.
It's composed of stainless steel, which is the greatest material for a feeler gauge right now because it's more rust-resistant. Furthermore, the use of each blade with its own handle simplifies valve adjustment and measurement. Furthermore, the offset blade type makes adjustment more difficult.
Don't overlook the thickness selection. Even if it isn't as comprehensive as we would want, the thickness set is enough. It's possible that the low price is due to the large number of blades.
It is graduated not only in inches, but also in millimeters. Why not buy CTA Tools A308 because it has amazing material and a reasonable price.
Key Features
Easy Blade Insert Makes Valve Adjustment a Breeze 

All Feeler Blades Have Metric Markings

Blades Sizes Range From 0.004-Inches to 0.014-Inches

Blades Insert Into Handle Easily

Set Includes 2-Handles and 11-Blades Offers Blades Sizes Ranging from 0.004 to 0.014-IncheS 
Pros
Durable

Offset

Two handles in a set

Money-saving and cost-effective

Stainless steel is a durable material.

The single blade is ideal for everyday use.
Cons
Size is limited.

For varied spacing, you must manually change the blade.
8. Hotop 32 Blades Feeler Gauge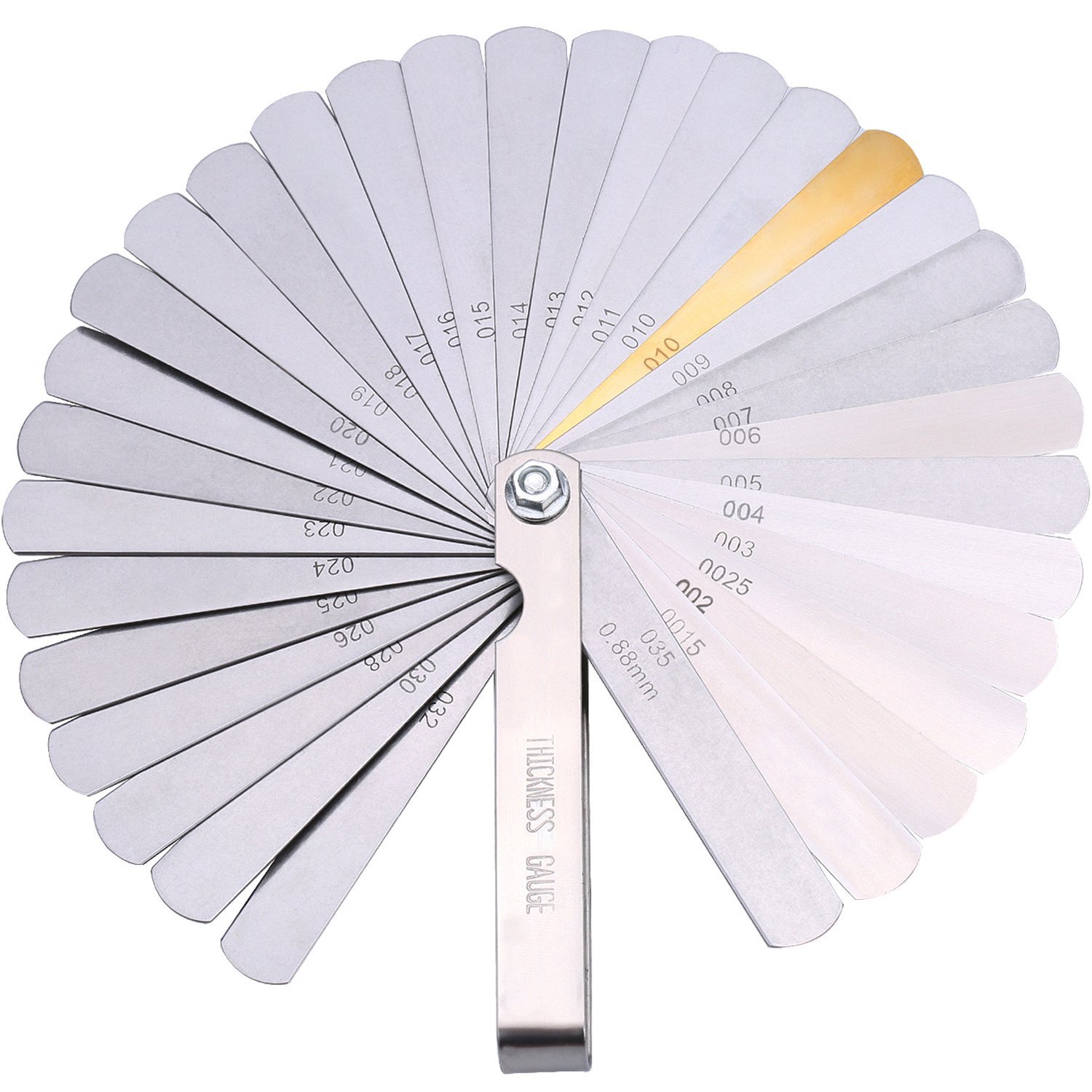 The blade thickness is more complete using the Hotop feeler gauge. It is made up of 32 blades, one of which is made of brass. Brass is a non-magnetic metal that won't stick to anything. As a result, while you operate close to a magnetic object, it continues to function normally. It is, however, less durable than steel.
Key Features
Feeler gauge set: each measuring feeler gauge has 32 blades thickness

It is constructed of 65 manganese steel; foldable feeler gauges are easy to take and store.

Dual labeled metric and imperial, 0.0015 inch/ 0.04 mm to 0.035 inch/ 0.88 mm, the size numbers are carved into the feeler gauge for easy identification.

0.04, 0.05, 0.06, 0.08, 0.10, 0.13, 0.15, 0.18, 0.20, 0.23, 0.25, 0.25, 0.28, 0.30, 0.33, 0.35, 0.38, 0.40, 0.43, 0.45, 0.48, 0.50, 0.53, 0.55, 0.58, 0.60, 0.63, 0.65, 0.70, 0.75, 0.80, 0.88
Pros
Nut with a lock

Blades that are greasy

SAE standard

32 blades with 0.010′′ thickness brassed blades

More full thickness size
Cons
9. Starrett 66B Thickness Gage Set
Despite the fact that there are many possibilities, we recommend the Starrett 66B feeler gauge. What's the deal with Starrett 66BB? Simply because it comes with a whole set of blades, is precisely sized, and is constructed of tempered steel.
There are 31 blades in all. These numbers should be more than enough to back up your gap measurement project. Below you'll notice a series of numbers listing the blade thicknesses from 0.0015′′ to 0.035′′.
The unit reading is the sole downside. Only inch marks are available on the blades. However, because the inch is commonly used in the United States, the United Kingdom, and Canada, the areas to which we want to blog this information, this should not be an issue for you.
Overall, this is the most accurate feeler gauge for you. We are confident in Starrett's ability to provide high-quality products. As a result, we recommend this when you need a serious exact thickness. Furthermore, if you require a calibration certificate, you may contact the seller and submit a request.
Key Features
Individually inspected and marked with thickness, leaves made of finest tempered steel, delicately finished to correct thickness

Leaves are readily replaced or removed.

With a locking mechanism

Gage's locking device allows one or more leaves to be securely locked in place.
Pros
31 blades to complete

The blades are arranged according to SAE standards.

Slot for the thumb

A locking device is used to keep the blades in place while working.

The blades can be removed.
Cons
The most expensive feeler gauge in this post compared to the others.
10. CAMWAY Feeler Gauge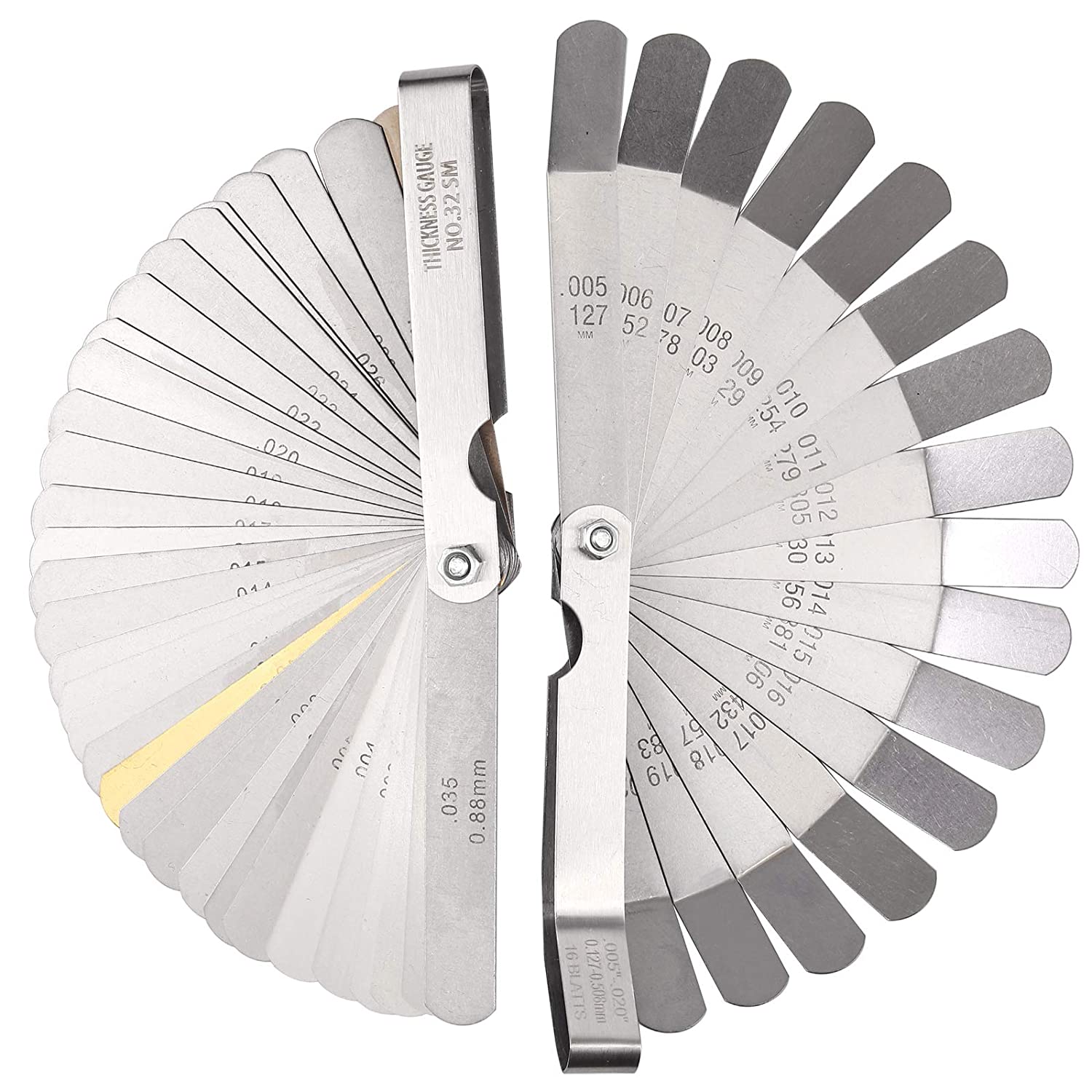 The feeler gauge is a tool that's been around for decades, and it's been used to measure gaps in a variety of applications.  The feeler gauge is a tool that's been around for decades, and it's been used to measure gaps in a variety of applications. Although feeler gauges are available in a wide assortment of common measurements, the most common Gage Block Number (GBN) is 0, 00, and 000, which are available in both inches and millimeters. . 
The most common thicknesses are .005, .010, .015, .020, .025, .030 and .040. Feeler Gauge Sizes Gage blocks are available in a wide assortment of common measurements including 0.01″, 0.10″, 0.25″, 0.5″, 1″, 1.5″, 2″, 2.5″, 3″, 3.5″, 4″, 5″, 6″ and 8″. These sizes are based on the height, so the same distance between two poles will result in a different size depending on the height of the poles.
Key Features
Straight feeler gauge with 32 pieces blades and 16-piece blades offset valve bent feeler gauge are two types of feeler gauge. Can be used to determine the size of a gap.

CAMWAY Feeler Gauge Set is made of anti-corrosion stainless steel and has metal fastening screws.

The 360-degree swivel design makes it simple to unfold , fold and transport. By adjusting the screw, you can remove the gauge and utilize it as a separate feeler gauge.

Every blade's specification was clearly marked on the surface with laser technology in both metric and imperial units so that you could readily identify them and choose the most appropriate one.

To test the thickness of tappet clearances, spark plug gaps, bearing clearances, and piston ring gaps, this tool is ideal for designers, engineers, and mechanics.
Pros
Steel with a manganese content of 65.

Good hardness and resistance to deformation.

The stainless steel feeler gauge is coated with anti-rust oil to keep it from rusting.

To test the thickness of tappet clearances, spark plug gaps, bearing clearances, piston ring gaps, and other hard to reach spots, this tool is ideal for designers, engineers, and technicians.
Cons
The lettering fades fairly easily. 
Final Words
Once again, we're inclined to recommend that you buy the cheapest form of feeler gauge you can locate.
However, there are some quality distinctions, and the price range is so narrow that you might as well invest in something decent that will last. This type of tool is usually found at the bottom of a tool box, but when you need it, it must be functional and not corroded and worthless.
Also, the lighter ones have a history of not being strong enough; if you try to fit them into too tight a spot, they kink, which completely ruins the set.
Frequently Asked Questions
1. Are all feeler gauges the same?
Feeler gages, also known as thickness gages, are available in a variety of thicknesses ranging from.0005″ to.125″. Feeler gauges come in a variety of lengths, ranging from 6 inches to coil lengths.
2. Do feeler gauges need calibration?
A feeler gauge is the ideal tool for measuring gap widths. It is a common engineering tool for determining the clearance between two pieces. It is suggested that any measuring equipment be professionally calibrated every 6–12 months to guarantee that it is in good working order.
3. How do I look after my feeler gauge?
To avoid corrosion, feeler gauges should be wiped with an oiled cloth before being stored. To avoid damage, Wonkee Donkee suggests that you keep the blades closed at all times except while in use. Observe – Measure – Observe – Observe – Observe – Only leave the blades out for as long as you need to measure or set the gap.
4. Do feeler gauges need calibration?
A feeler gauge is the ideal tool for measuring gap widths. It's a common technical technique for determining the clearance between two pieces. It is suggested that any measuring equipment be professionally calibrated every 6–12 months to guarantee that it is in good working order.