Choosing a great  router can be a tough choice to make, since there are so many on the market. However, we've done the research and come up with a list of the best compact routers in multiple categories. We've also compiled a top 10 list to help make things easier for you. Finding the best compact router for craftsmen is essential to having a good router. With so many models and brands out there, though, how do you pick the best one for your needs? For our money, we recommend the DeWalt DCW600B Compact Router Kit. It's affordable, versatile, compact and easy to use.
Our Top 3 Picks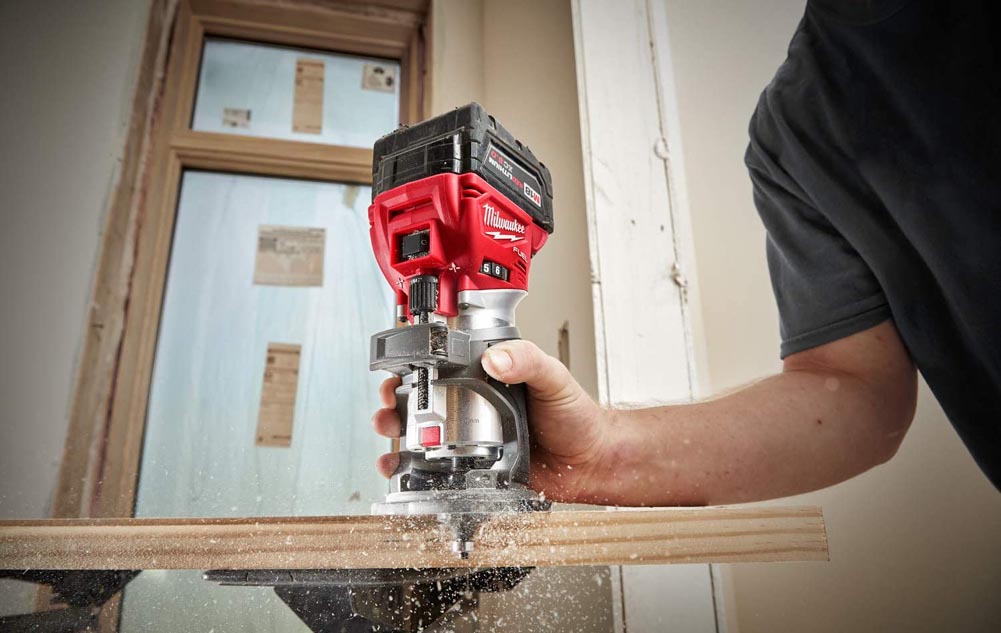 Top 10 Best Compact Router Reviews – 2021
If you're a craftsman who needs a router for jobs around the house, you have a couple of choices. You can go big with a full-size router, which is powerful and versatile, but takes up a lot of space. Or you can go small with a compact router. The small options are generally less powerful than their big brothers, but offer a lot of convenience and maneuverability. Our shortlist of the ten best compact routers for craftsmen includes a number of routers, some of which may be quite familiar to you. We have picked a router for everyone from the casual DIYer, to the professional contractor, to the advanced do-it-yourselfer. What makes these routers standout from the rest is that they are powerful, yet easy to use, with compact designs that will fit into small spaces.
1.

DEWALT 20V Max XR Cordless Router
The DEWALT DCW600B Router is a compact device that is used by homeowners and professionals of all trades. The router is incredibly powerful for its size, making it an ideal choice for anyone seeking a more powerful tool. The model is composed of a plastic housing.When you're working on a big project at home, the last thing you want to worry about is whether your power tools will run out of juice in the middle of the job. The DEWALT DCW600B cordless is a router that you can take from one room to another without having to worry about power cords, since it is powered by a 20-volt battery. With this router, you can make it through any project, no matter how big or complex. DEWALT is a major manufacturer of power tools, and it is one of the best-known names in the industry.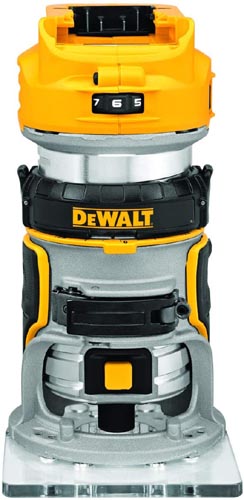 key Features:
It contains Dual LED lights.
It is a 20V router machine.
The Speed of this router is 16,000 to 27,000RPM.
The motor of this router starts softly.
This router does not contain any brush.
Technical Parameters:
| | |
| --- | --- |
| Power Source | Cordless |
| Battery | Platform |
| Variable Speed | 16,000 – 27,000RPM |
| Voltage | 20V MAX |
| Collet 1/4″ LED | Yes |
Advantages:
It is Quite handy machine.
It has an adjustable  speed control.
There are Built-in LED lights in this router machine.
It has a great weight.
The balance is great.
No cords that come in way while working.
easy to use.
Worth the money.
It is great for small projects.
Related: Best Home CNC Machine
2.Makita RT0701CX7 Compact wood Router:
The Makita RT0701CX7 Compact wood router is a powerful compact sized router that is suitable for both professional and amateur woodworkers. The electronic speed control (ESC) makes it easy to change speeds with the simple twist of a dial. The soft start feature prevents the tool from vibrating when it is first turned on and the electronic brake stops the rotation of the router bit instantly when the trigger is released. The plunge base allows you to make adjustments when needed without removing the tool. The compact design is convenient for use in tight spaces, and it features variable speed control for fine-tuning the cut, a plunge base for greater control, and a soft start feature to reduce strain during start-up. Although the Makita RT0701CX7 Compact router is small in stature, it packs a lot of power into every feature. There's no need to lug around a full-size router for weekend projects.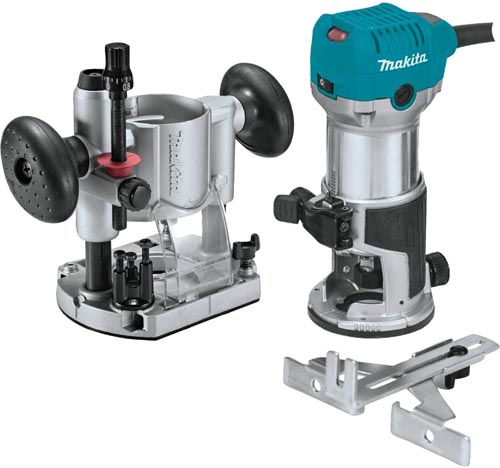 key Features:
It has a 1-1/4 HP.
This router has a speed of 10,000 to 30,000 RPM.
This router has a Soft start.
It is a slim router.
It has 1/4″ Collet.
It has a 1 Year – 30 Day Warranty.
Technical Parameters:
| | |
| --- | --- |
| Variable Speed | 10,000 to 30,000 RPM. |
| Voltage | 120 Volts |
| Collet | 1/4″ |
| Horsepower | 1.25 |
| Material | Brass |
Advantages:
Ergonomic and handy router.
Has bits release set-up
Upper flat design is perfect for bit change.
Has a great time period of warranty.
It is a good medium power router which serves most quite well.
Related: Best 4×8 CNC Router
3.

DEWALT Router Fixed/Plunge Base Kit
DEWALT's dwp611pk is a compact router that's designed for day-to-day use at home, in the office, or in the shop. It's a great option for a first time router buyer, as it's easy to use and comes with a number of features that make it easy to handle various router tasks.The second most important tool in your woodshop is your choice of router. Although it may not get as much attention as your table saw, the router is the most versatile and useful tool available. Its function is to remove material from a piece of wood, leaving a flat surface or a curved surface, depending on the bit and the direction of the cut. Over the years, the router has been used for a variety of jobs by woodworkers.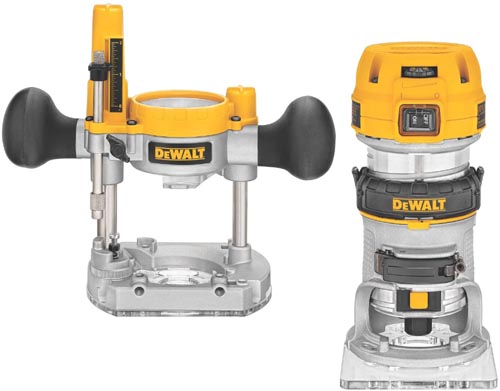 key Features:
It has 1.25HP.
It was a very Variable Speed.
It contains 16,000-27,000rpm speed.
It contains Dual LED's.
It can cut upto 1.5″ depth.
Extended 8-slot is available.
It has 1/4″ collet.
Technical Parameters:
| | |
| --- | --- |
| Amps | 7.0 Amps |
| Collet Diameter | 1/4″ |
| Horsepower | 1.25 HP |
| Speed | 16,000-27,000 rpm |
| Power Tool Type | Corded |
 Advantages:
It is quite handy with multiple shaft lock availability.
Easily removable base with its spring-driven release.
The large plunge based system makes it fully functional and more stable.
Has an elongated sub-base to provide convenient user control.
It is a good medium power router which serves most quite well.
Related: Best Circular Saw Blade
4.

Makita XTR01T7 18V LXT Lithium-Ion Brushless Cordless
If you're a homeowner in search of a stylish, high-performance router, look no further than Makita's XTR01T7 Compact Router. This model boasts a powerful 5Ah motor that delivers speeds of up to 30, 000 rpm for fast and efficient routing of wood, plastic and even laminate flooring. It also has a durable soft grip that makes it much easier to hold steady for longer periods of time, so cutting long profiles is quick and easy.If you're going to be using a router, you want it to be reliable. You want to be able to depend on it to work, and to work well. And that's what you get with the Makita XTR01T7 Compact Router. Featuring a powerful 15AMP motor and a soft start feature to protect the router bit from shock and heat, the XTR01T7 has a variable speed dial with a maximum speed of 30,000 RPM and a spindle lock that allows you to make height adjustments without removing the router bit.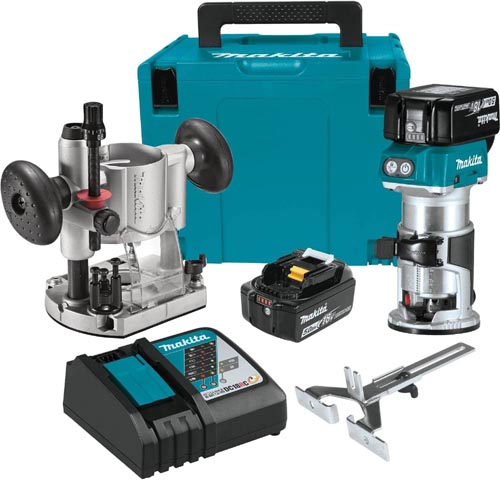 key Features:
It has 18V.
It has 10, 000 – 30, 000 RPM speed.
It contains Dual LED lights.
It is very powerful.
It is Durable.
Technical Parameters:
| | |
| --- | --- |
| Wattage | 90 watts |
| Item Weight | 20 pounds |
| Voltage | 18V. |
| Speed | 10, 000 – 30, 000 rpm |
| Measurement System | Metric |
Advantages:
Excellent ergonomics and smooth operation.
Above-average battery life.
Electronically-controlled BL brushless motor.
Soft start.
Available plunge.
dust collection.
Related: Best Dust Collector
5. Milwaukee M18 Fuel 2723-20 Compact Router
Milwaukee's M18 Fuel 2723-20 Compact Router packs a powerful punch in a small package. In addition to its small size, this router offers the best of both worlds when it comes to features. With Milwaukee's M18 Fuel 2723-20 Compact Router, you can now take all those large parts you need to rout and reduce them down to size. The router's compact size makes it ideal for confined work spaces, and the included depth collar helps you maintain accuracy. Plus, the router comes equipped with a tool-free adjustable shoe and two-position side handle, ensuring comfortable routing results, no matter what the size of the job. You don't need a full-sized router for all of your big jobs. That's why we've picked the Milwaukee M18 Fuel 2723-20 Compact Router as the great compact router you can buy.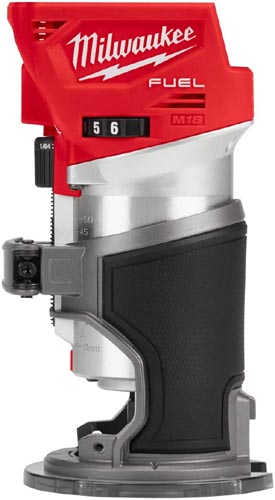 key Features:
It is a Bare tool.
It is 1/4″ Collet.
This device has 10,000 and 31,000 rpm speed.
It is a very Adaptable device.
It has a 4-inch sub-base plate.
It is 18V.
Technical Parameters:
| | |
| --- | --- |
| Colour | red |
| Item Weight | 4.86 pounds |
| Voltage | 18V. |
| Speed | 10, 000 – 31, 000 rpm |
| model number | 2723-20 |
Advantages:
Its battery power is very good and long lasting.
It is really powerful.
It cuts precisely.
It is manufactured very nicely.
its routing is really efficient.
It's really light weighted.
Its screws are fine adjusted and really good.
Related: Best Electrician Tool Belt
6.

Ridgid Cordless Brushless 1/4 Inch Compact Router
The Ridgid R86044B is a compact router that is designed to be used in tight places. It is very durable, easy to control, and will fit into your hand comfortably. The Ridgid R86044B does not have many bells and whistles, but it is designed to work and be used in tight spaces. It is ideal for a home workshop and will fit into any drawer. The R86044B is a compact router by Ridgid, and it comes with a host of impressive features. It has a powerful motor that can handle both soft and hard woods. It is a powerful, compact router that is designed to handle a variety of different tasks, including cutting, shaping, and joining. With a lot of power in a small package, the Ridgid R86044B offers a lot of versatility.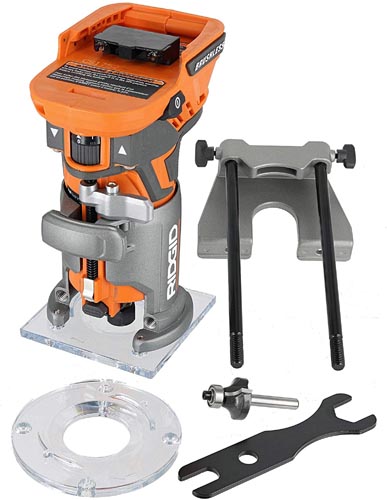 key Features:
It is 18V.
It is of 1/4 Inch.
This router is Cordless.
It is Brushless.
It is a Power Tool Only.
It has 17,000RPM to 25,000RPM speed.
Technical Parameters:
| | |
| --- | --- |
| Material | Plastic, steel |
| Item Weight | 3.5 pounds |
| Voltage | 18V. |
| Speed | 17,000RPM to 25,000RPM |
| Power Source | Battery-powered |
Advantages:
It's really steady and gives a great result.
It is really easy to use.
It is really well manufactured and is really solid.
It is a really handy tool.
The price range of this tool is really convenient that anyone can afford it and enjoys its superiority.
Related: Best Rolling Tool Bag
7.

PORTER-CABLE Porter Cable Router
No matter which tool you are using for the job, you need to know what you are doing. Whether you are working in the kitchen, or repairing electrical wiring, it's important to know how to use the tools you have chosen. Keeping that in mind, Porter-Cable has a new router for you to use, and it's not your average router.Of course, if you have a small job to do in the house, then it makes sense to use a PCE6435 Porter Cable Compact Router. It is a powerful little machine that is designed to be used in tight spaces. It is suitable for all-around housework, and it will help you to get that little DIY task done quickly and efficiently.The company has a solid reputation as a manufacturer of quality power tools and with this unit, Porter-Cable has a very good opportunity to solidify its reputation as a manufacturer of routers.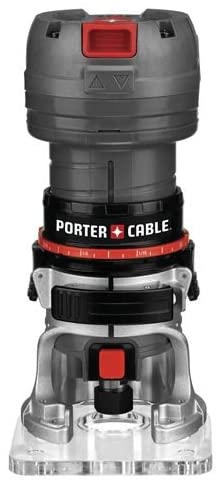 key Features:
It has 16,000-35,000 RPM speed.
It has a 5.6 amp motor.
This router contains LED lights.
It has 1/4-Inch Laminate Trimmer.
It is of 120 Volts
Technical Parameters:
| | |
| --- | --- |
| Style | Router |
| Item Weight | 5 pounds |
| Voltage | 120 Volts |
| Speed | 16,000-35,000 RPM |
| Warranty | 3 year |
Advantages:
Depth adjuster is really great.
Perfect for polymer.
Great product at a low price range.
It is quite Strong.
It is Speedy.
Related: Best Wood Router For Beginner
8.

Mophorn 1.25HP Compact Router Kit
For some craftsmen, the Mophorn Compact Router is the perfect solution. This device is small enough to fit into a pocket or on your keychain, but it's powerful enough to handle any task. It comes with a variety of accessories to give you maximum control over the router's functions, including a plunge base, a straight base, a vacuum system, finger hold rings, and other tools. And, unlike some other compact routers, the Mophorn can handle both rounding and edge routing. Given the choice, many of us would obviously choose a sleek, stylish router for our homes and offices. Unfortunately, stylish routers also happen to be incredibly expensive, so most of us will make do with what we can afford. This router is the best looking router we've ever seen, and we can't believe it's also the cheapest.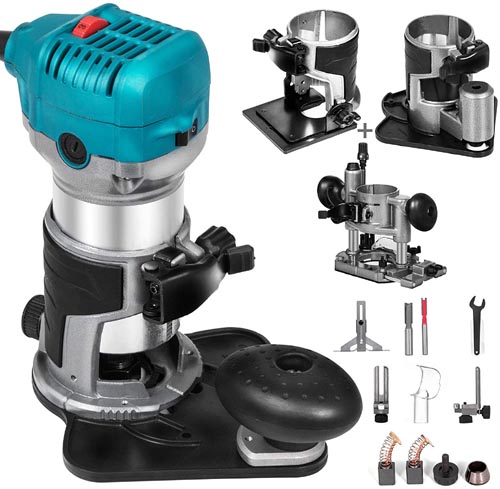 key Features:
It is 1.25HP.
It has a speed of 30,000RPM.
This router is great for For Furniture Manufacturing.
This router is For Woodworking.
It is a 710W compact router.
It is 110V.
It is of 60HZ.
Technical Parameters:
| | |
| --- | --- |
| Power | 1.25HP |
| Power Input | 710W |
| Voltage | 110 Volts |
| Speed | 30,000RPM. |
| Collet Chuck Capacity | 1/4″ & 3/8″ |
Advantages:
It is really a good tool.
It is perfect for cutting precisely.
It is really steady and sturdy.
It makes less noises.
It has amazing durability.
Related: Best Table Saw Fences System
9.

Bosch GKF125CEN Colt 1.25 HP Speed Palm Router Tool
If you're thinking of adding a router to your tool collection, and need a compact model for tight spaces, you should consider the Bosch GKF125CEN Palm Router Kit. When you are looking for a palm router, there are a number of things that you need to consider. First of all, you need to think about the shape of the bit you need. The router that produces the best results will depend on whether you are working with wood or metal. This article by Bosch explains the differences between these two materials. When it comes to performance, power is not everything. The Bosch Palm Router GKF125CEN is a compact palm router that has plenty of features that let it stand out from the crowd. The Bosch is easy to use, too, thanks to its ergonomic design and touch-based controls.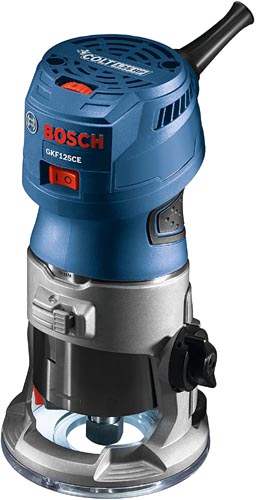 key Features:
It is 1.25 HP.
This router is a 7.0 amp motor.
This router has 16,000-35,000 RPM speed.
Technical Parameters:
| | |
| --- | --- |
| Power | 1.25HP |
| motor | 7.0 amp |
| Voltage | 120 Volts |
| Speed | 16,000-35,000 RPM |
| Weight | 4.4 pounds |
Advantages:
Its depth adjustment is amazing.
It cuts preciesly.
The collet is great and grips tightly.
Its speed dial is wide range.
It is really easy to control.
10.

Triton TRA001 HP Dual Mode Precision Plunge Router
The first thing you should know about the Triton TRA001 Plunge Router is that it isn't technically a plunge router. Sure, it has a 1/4-inch collet, the industry-standard size for a plunge router, and it has a plunge base that allows you to rout in the same way as a plunge router. But the TRA001 Plunge Router is meant for use with a router lift, which will allow you to raise the router a bit up and down with the push of a lever. If you want a plunge router, however, the TRA001 Plunge Router will do the trick. The Triton TRA001 Plunge Router is a high-end plunge router for craftsmen, taking the top spot in our list of the greatest compact router for craftsmen. If you're familiar with large-scale routers, you'll be able to use it right out of the box. If you're a beginner, however, the Triton is a good choice, because it comes with a variety of accessories, and its user-friendly design makes it easy to use.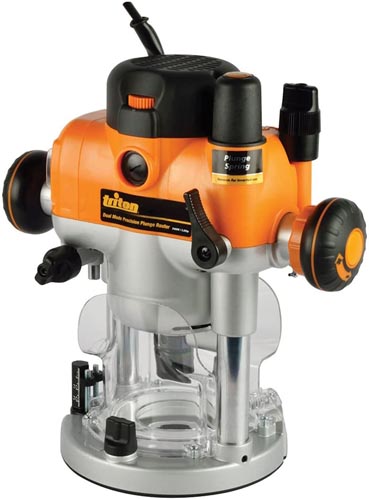 key Features:
It is 3-1/4 HP.
IT contains Only one switch.
It has 1/4″ Collet.
It is 110-120V.
It is 3 1/4 Horsepower.
It Weighs 14.33 lbs.
Technical Parameters:
| | |
| --- | --- |
| Power | 3-1/4 HP |
| Material | 7.0 amp |
| Voltage | 110-120V. |
| Special Features | Plunge |
| Weight | 14.33 lbs. |
Advantages:
It has a single button switch.
Its pins fit really quickly.
Removable plunge spring.
It is easy to operate.
Fully enclosed guard.
It locks automatically.
Buyer's Guide for The Compact Router
A router is a woodworking machine used to carve out pieces of wood, and it can be used to make a number of different things, from simple wooden boxes to more complex pieces of furniture. While you could buy a full-sized router for craftsmen or DIYers, compact routers are better suited for people who need to work on smaller projects.If you are in the market for a router, then you'll be faced with many choices. There are many routers that are available on the market, each of which will have specific features and benefits. The key is to choose the router that best suits your needs. In order to do that, it is important that you take your time and consider all of your options before making your final selection. If you do that, then you'll be able to find the router that is the best one for you.
Adjustable Bit Height
Most craftsmen and hobbyists don't need to use a router very often, but when they do, the versatility of the tool makes it worthwhile to own. The one drawback to a router over a table saw or circular saw is that it is not very portable. Portable routers are available, but most are either lightweight and flimsy, or too bulky for many jobs. One notable exception is the Milwaukee 15 Amp Compact Router with Adjustable Guide, which combines compact size with a lightweight, but sturdy build.
Makita Palm router
The Makita compact router (model number RT0700C) is a palm router that has several characteristics that make it stand out among other models. It is one of the most compact palm routers available, which is an excellent feature if you are looking for a palm router to use on a job site. It has an impressive ¼-inch collet size, which gives you more flexibility when it comes to choosing bits. It also has a soft-start feature, which promotes smooth start-ups. This is a great feature if you are going to use it on a job site.
The Clear View for Easy Routing
The router is an important power tool for craftsmen that has been used for many years in the construction of the house and the works of the wood. In the past, it was necessary to prepare the router and know how to handle it in order to use it. However, in recent time the router has been developed greatly and the construction of the router has been simplified. It can be controlled and used by anyone who owns it without having to prepare or know the way to handle it.
 Porter-Cable router
Porter-Cable is a brand that is often associated with tools for professionals, but their latest models are designed for use in the home. Craftsmen are an enthusiastic group of people who love to get their hands dirty in the pursuit of making the perfect piece or art. Router bits made of titanium carbide are widely used by the woodworking community because they are much harder and more durable than standard bits. While this means the bits can withstand heavy use without dulling as quickly, it also means the user needs to know how to sharpen the bits correctly. Otherwise, the high level of durability means the router bit will stay dull much longer than it normally would.
Compact Router Uses – How To Use A Compact Router
Duplicating Parts
The compact router has become a popular tool among DIYers and craftsmen because of its versatility and affordability. If you want to know more about how to use it for your own projects, take a look at this story. We'll show you how to duplicate parts of a compact router to make your own custom model. The compact router for craftsmen models have numerous parts that are necessary to the routers proper operation and use. This includes switches, knobs, antennas, and the router motor itself. In order to ensure that you are purchasing a router that will meet your needs, you must be aware of what parts it has.
Cutting Hinge Mortises
There are many different types of routers for craftsmen on the market. However, there are also many different types of hinges that you can use to hold doors and windows. Hinges are a popular way to add a little flexibility to a cabinet door's function, but they're not the easiest things to install. You don't want to screw them in from the outside and risk damage to your finish, and you also can't just butt joinery them to the door and frame. The solution is to cut a mortise in the door that the hinge can rest in. This is a simple job with the right tools, which is why it's worth investing in a compact router.
Profiling Edges
The routing of the edge of your workpiece with a machine, called profiling, is an essential stage in many woodworking projects, from basic spindle-turning to the production of delicate reeded mouldings. However, it can be a particularly daunting task if you are new to the technique. A router is a must have tool for any woodworking or handy projects. It is a pretty versatile and reliable tool that can be used for many different things. But if you are a craftsman and you need a compact router for your projects, then you are probably trying to figure out what the compact router for craftsmen is.
Cleaning Veneer
Veneer for craftsmen is a very delicate thing to work with, since there is a constant concern to keep it from cracking or disintegrating. One of the most important parts of working with this material is to have a clean working space, including your tools. A router with a veneer setting is essential, since it allows you to achieve a very fine level of detail in your joints. And this is not even the most important use of the router.
Trimming Shelf Lipping
Trimming the shelf lipping from a compact router is easy to do with simple tools. For the best results, however, you'll need to take a few precautions. First, use a router table. Trimming the lipping requires you to make very delicate cuts, and it's very easy to accidentally remove too much material from the base of the router. Otherwise, the base of the router will be too thin, and the router will no longer be stable. Second, use a featherboard. This will increase control and will prevent the router from tipping and the bit from biting into the table.
Flush Cutting Plugs
The flush cutting router bits allow you to remove the plug from the hole you want to create. This technique is ideal for cabinet doors, table tops, countertops, and many other projects. This process is also very easy and can be done on a drill press with the use of a template. This technique is very useful for cutting plugs for the compact router for craftsmen.
 Cutting Joinery
The first thing you need to do when cutting the joinery by a compact router for craftsmen is to make sure that you have the right router bits. While you can use a set of generic bits, these may not give you the best results, as they may not be designed for the type of joinery you need to create. Instead, you should invest in a bit set that is specific to the type of joinery you want, as these will ensure that your cuts are clean and sharp.
Sign making
When it comes to making signs for your home or business, some people like to go the old school route and use wood or other materials to make these signs. While this does make for a nice look, it does take quite a bit of time and effort on your part. A more practical route would be to use a compact router for craftsmen to make and cut these signs.
Whole Drilling
Whole drilling is a really important fact for the router. If we can not drill a whole peacefully then no use of that router.
Mortising Inlays
The mortising inlay is a tool used by craftsmen to drill a hole in the edge of a piece of wood, so that a groove can be cut using a router. This groove is called a mortise. It allows you to fit a piece of wood, or inlay, into a larger piece of wood, and it can add a nice aesthetic touch to your projects. However, the tool itself is a bit cumbersome and difficult to use.
FAQs:
What is the best small router?
The best small router for craftsmen are those that are easy to use, have a good battery life and are powerful. You can also use the router for decorative work, such as making beads or cutting shapes like stars and flowers. Most routers have a router and bit set that you can use to cut wood. A small router can be an excellent companion for any woodworking craftsperson, whether you're a hobbyist, professional, or both. When you're working with small projects, a big router is too big to handle, and a hand router is simply not powerful enough. A small router can help you to shape your work pieces and create a smooth surface, and ensure that the final look is polished and presentable.
What can a trim router do?
A trim router is a router tool that is more compact than most traditional routers and is designed for trimming. This tool offers some definite advantages over traditional routers. The trim router can be used in tight, or hard to reach areas due to its smaller size. The router is also equipped with a smaller motor, which means that it will not bog down even when a lot of force is needed.
What is the difference between a plunge router and trim router?
The big difference between a plunge router and a standard router is the plunge base. The plunge base on a plunge router has a handle that lets you lower the bit into the wood. This is useful when you need to cut grooves or slots, such as for a dado or inlay. The plunge base is also useful when you want to rout in an area that's hard to reach, like inside a drawer, or when your router is mounted underneath a table.
Are palm routers any good?
As many of us know, craftsmen have been using palm routers for centuries, but what are palm routers? As the name suggests, palm routers are routers that are small enough to be held in the palm of your hand. This isn't just an advantage in terms of portability, as they are also much easier to handle than bigger router models.The fact that they are small shouldn't put you off; these palm routers for craftsmen are capable of the same things as their bigger counterparts. The only difference is the size, so you can still use them to cut mortises or do any other carpentry work.
What is the perfect Compact router for sign making?
If you like DIY projects, you might have considered buying one of the many compact routers on the market. This tool is a powerful and versatile tool that craftsmen use to shape and cut wood, plastic, and other materials. If you are looking to buy one of these tools and are not sure which one to choose, we recommend the Bosch Bosch GKF125CEN Compact Router Kit. We chose it because it offers all the features you would want in a router, and because it comes with superb customer service.
Final Verdict
Compact routers are very popular among craftsmen due to their small sizes, but there's no perfect compact router out there. We've tested dozens of these devices, and our team has spent hours discussing, debating, and comparing them. While we think that some compact routers are better than others, there are still many factors to consider. The Bosch GKF125CEN is the best compact router money can buy. It scores well on all of our performance tests, and it offers a streamlined design that's easy to handle. It's not a perfect router – we'd like to see a bit more variety in its collet options, and the case could be a little sturdier but it's our favorite compact router for all craftsmen. Hope you read our whole blog and like it and let us know about your comment.